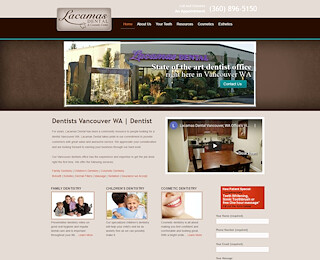 If you are wondering where you can find a dentist near me in Vancouver Washington, Lacamas Dental prides itself in a commitment to quality care and customer service with family, children's, and cosmetic dentistry.
Why do I need to visit a dentist?
Your teeth are one of the most vital parts of your body. They break food down to smaller and more digestible components packed with vital nutritional content in addition to offering a confidence boost.
Plaque and bacteria build up and weather teeth along with time which can even lead to life-threatening infections. Nearly 69 percent of adults lose at least one tooth with 26 percent of Americans over the age of 65 losing all their teeth.
How often do I need to visit the dentist?
A dentist's office is not an emergency room. Dental visits are a form of preventative care aimed at keeping your smile and body healthy throughout your entire life.
You should schedule a cleaning twice every year to get rid of unwanted buildup. Dental professionals are also capable of catching everything from cavities to cancer before they become extremely dangerous.
Where can I receive affordable dental care in Vancouver WA?
A twice annual visit to the dentist should not break the bank. The average cost of a cleaning ranges from $75 to $200 or more without insurance while tooth replacement can cost in the tens of thousands of dollars.
Lacamas Dental offers return patients an affordable plan for as low as $375 per year for a single adult, $725 for couples, and $1025 for families. This covers full coverage for diagnostic investigation and most preventative care as well as large discounts on crowns, sealants, veneers, dentures, and implants.
Cosmetic dentistry in Washington
Cosmetic dentistry is about looking your best. A healthy smile opens doors, leaving you with the confidence needed to take on more responsibility.
Veneers, crowns, and tooth whitening restore your smile to its natural state. Our dental plan covers a portion of the cost.
Tooth implants and dentures
A smile is more than healthy. Your teeth are a crucial part of your health and tooth loss can create a variety of problems ranging from posing a risk of infection to malnutrition.
Dentures replace your teeth to create a beautiful smile that restores functionality to your mouth. The installation procedure is simple with small holes in the gums anchoring strong yet natural feeling implants with little pain.
Quality dentist near me in Vancouver Washington
A quality dentist performs a significant service to help keep you healthy and confident throughout your life. From cosmetic to life-saving procedures we strive to provide quality care that allows you to live life to the fullest.
Lacamas Dental in Vancouver Washington is a highly regarded community resource. We seek to provide respectable care at a respectable price for our customers.
Your smile is not something to ignore as your teeth are a critical asset. Schedule an appointment with our professionals today.
Dentists Near Me Vancouver WA
We welcome your comments!