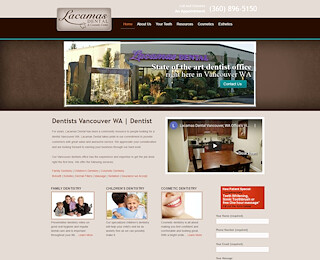 Lacamas Dental is your one-stop resource for a Vancouver WA.  Our team of friendly and professional dentists are experienced experts in the field of dentistry, providing a wide range of services from cosmetic procedures to proven periodontal disease treatments. We use state-of-the-art equipment like low-radiation digital x-rays, too.
A lot of otherwise brave and reasonable people are tremendously frightened to visit a Vancouver WA dentist. If you are scared of the dentist, let us know when you call to schedule your appointment. Dental fear is entirely common, especially among those people who are old enough to remember scary dental procedures. At Lacamas dental office, every patient is treated with utmost care and kindness. We understand how you might be afraid of the things that could happen while you're sitting in the exam and treatment chair. We invite you to come consult with a gentle Vancouver WA dentist during your casual, non-threatening initial visit. Tell the dentist about your concerns so he can alleviate your fright and provide you with the proper anxiety relievers.
Don't go through life to embarrassed to be caught smiling for the camera. Your teeth may be a problem. You might actually be a very happy person, but nobody knows it, because you never smile with all your heart. Your Lacamas Vancouver WA dentist has a remarkable assortment of ultra modern tools and techniques at his or her fingertips. Most dental procedures don't take as much time and cause as much discomfort as they used to. Consider tooth straightening. While braces are actually orthodontics and not exactly cosmetic dentistry, they are still something about which you may consult. Your dentist will explain your various options. Contact us today and schedule a consultation. Find Lacamas Dental at 11818 SE Mill Plain Blvd #106 in beautiful Vancouver.
Vancouver WA Dentist
We welcome your comments!