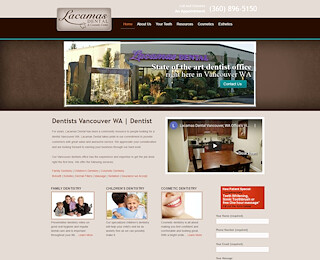 For many years, Lacamas Dental has been the go-to clinic for individuals looking for affordable dentistry Vancouver WA services. We have Vancouver dentists with expertise on various branches, from cosmetic to children and family services. We accept insurance, too. For information, explore this website or call us up at (360) 896-5150.
Unless you happen to be fortunate enough to carry an insurance policy that pays for everything without question, you probably need to know where to obtain affordable dentistry. Vancouver WA is home to Lacamas Dental. For dental services of all kinds, call 360.896.5150 to arrange an appointment. When you require the attention of a kind dentist who provides affordable dentistry Vancouver WA, come to where the comfort is. We specialize in high quality preventative and corrective care for every member of the family. Quality dental care can be beyond the financial wherewithal of many families these days. We are dedicated to offering first class dental care for very fair and affordable prices– often a fraction of the price charged by other local family dentists, cosmetic dentists and orthodontists.
If you are missing one or more teeth and your jawbone is basically healthy, we can discuss dental implants. They look and work just like real teeth. Most people report that implants feel more secure and are easier to live with than removable bridgework and false teeth. If you are nervous about wearing a dental device like a denture, dental implants may be ideal for you. For further information about affordable dentistry Vancouver WA, send us an email or call during normal business hours. We hope you will choose us to be your family dentist. We specialize in affordable periodontics and preventative and corrective care for patients of every age. Remember, regular dental checkups and periodic cleanings will ensure the health and attractiveness of your smile.