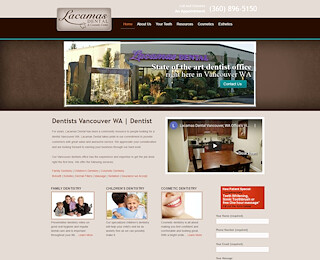 Lacamas Dental has experts in general dentistry Vancouver WA that is covered by many insurance companies. Our licensed dentists specialize in family dentistry and cosmetic procedures for your teeth. Explore this website to see a complete list of our general dental services and the types of dental insurance that you can use.
If you're okay with seeing just any old dentist, there are plenty in the phone book. If you'd rather visit with an experienced dentist who is careful and compassionate, come see us. We are Lacamas Dental and you will find our clean, modern clinic in Vancouver, Washington. Just moved here? As soon as you're unpacked, find a great dentist. Excellent general dentistry Vancouver WA can make a world of difference in the way you feel. The human face is designed to smile. Believe it or not, it requires far fewer muscles to smile instead than it does to frown. Smiling feels good! When you smile, you feel better and everyone around you feels better, as well. If you don't smile because you're ashamed about the way your teeth look, do something about it. Cosmetic dentistry is a whole lot simpler and quicker than it was even five short years ago.
Give us a call and set up a consultation for general dentistry Vancouver WA. Allow our dentist to do a thorough examination of your teeth and underlying jaw structure. You may be a candidate for dental implants or invisible orthodontics. There are a variety of other options that your dentist will discuss with you. Don't go through life embarrassed to smile. It feels great to grin when you've got a mouth full of bright, beautiful teeth. Find Lacamas Dental at 11818 SE Mill Plain Blvd #106 in beautiful Vancouver. Please call 360.896.5150 to schedule your consultation and/or appointment.