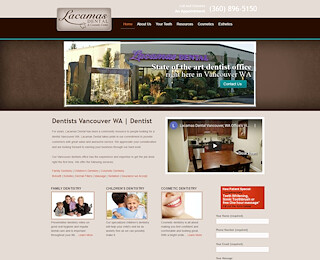 Find a dentist on Mill Plain here in Lacamas Dental. Our versatile dental office provides a wide range of services from cosmetic dentistry to children's and family dentistry. We can treat periodontal disease, make high-quality dentures, and do digital but low-radiation x-rays, too. Find out more by exploring this website.
Experiencing tooth troubles, are you? Get yourself to a dentist on Mill Plain Boulevard without delay. A toothache may eventually abate, but a problem tooth will only get worse without professional care. We know you're nervous about seeing a dentist. That's alright. Lots of people are. At Lacamas Dental, we are very kind and patient with kids and cowards.
Plenty of folks are deathly afraid of seeing a dentist. Vancouver is home to thousands of bright smiles that can be credited to the dedication and hygiene of the patient and the skills of an experienced dentist. On Mill Plain Boulevard, you will find Lacamas Dental clinic. If your smile is less than ideal, make an appointment. Our dentists are as gentle as can be, and you will soon realize that you really have nothing to fear from a visit to a dental office. Lacamas Dental clinic is where kids and adults can get high quality preventative and corrective care that is first class and affordable. Don't put off your dental visit until you've got an aching tooth. It's so much easier to make and keep regular appointments with a kind and gentle dentist on Mill Plain or wherever you and your smile happen to reside. Yes, we accept most insurance, including Aetna, Ameritas, Assurant, Regence, Blue Cross of Oregon, Connection Dental, Dentemax, Delta Dental, Guardian, Humana, Met Life, Principal & The Standard and United Concordia. Right now, before you forget, call 360.896.5150 to schedule a convenient appointment.