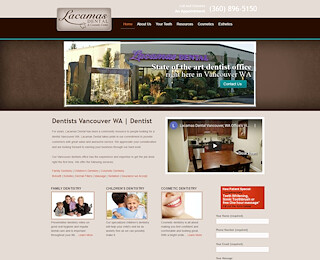 At Lacamas Dental & Cosmetic Center, we understand that dental anxiety is a common concern for many patients. That's why we offer Vancouver sedation dentistry to help make your dental experience as comfortable and stress-free as possible.
Our compassionate and skilled team is dedicated to providing exceptional dental care, along with personalized sedation options to ensure a positive experience during your visit. To learn more about our Vancouver sedation dentistry (sedation dentistry in Vancouver WA), contact Lacamas Dental & Cosmetic Clinc today.
5 Reasons to Choose Us for Sedation Dentistry
Experienced and Compassionate Team:
Our dental professionals have years of experience administering sedation dentistry in Vancouver, WA. We are committed to making your dental visit as comfortable and anxiety-free as possible, and we take the time to listen to your concerns and tailor our sedation approach to your specific needs.
Range of Sedation Options:
We offer various sedation options to suit your individual preferences and requirements, including nitrous oxide (laughing gas), oral sedation, and IV sedation. Our team will work with you to determine the most appropriate level of sedation for your needs and comfort.
State-of-the-Art Technology:
We use advanced technology, such as digital x-rays and modern dental equipment, to ensure accurate diagnoses and effective treatments while minimizing any discomfort during your visit.
Comprehensive Dental Services: Our wide range of dental services means you can receive all your dental care under one roof, including preventative, restorative, cosmetic, and sedation dentistry.
Patient-Centered Approach: Your comfort and satisfaction are our top priorities. We strive to create a welcoming environment where you feel at ease and confident in the care you receive.
What All is Included in Sedation Dentistry?
Sedation dentistry involves the use of medication to help patients relax and feel more comfortable during dental procedures. At Lacamas Dental & Cosmetic Center, we offer various sedation options, including:
Nitrous Oxide: Also known as laughing gas, nitrous oxide is a mild sedative that helps patients feel relaxed and at ease during their dental procedures. This form of sedation is inhaled through a mask and takes effect quickly, providing a sense of calm and comfort.
Oral Sedation: Oral sedation involves taking a prescribed medication before your appointment to help you feel relaxed and drowsy. This form of sedation is ideal for patients with moderate dental anxiety or those undergoing more extensive dental procedures.
IV Sedation: Intravenous (IV) sedation is a deeper form of sedation, administered directly into the bloodstream. IV sedation is ideal for patients with severe dental anxiety or those undergoing more complex dental procedures.
FAQs About Sedation Dentistry
Is sedation dentistry safe?
Yes, sedation dentistry is safe when administered by a trained and experienced professional. At Lacamas Dental & Cosmetic Center, our team follows strict protocols to ensure your safety and comfort throughout the procedure.
Will I be completely asleep during sedation dentistry?
The level of sedation varies depending on the type and dosage of sedative used. Some patients may feel drowsy and relaxed, while others may drift in and out of a light sleep. With IV sedation, patients are typically in a deeper state of relaxation but can still be awakened if necessary.
Can I drive myself home after sedation dentistry?
For mild sedation with nitrous oxide, you may be able to drive yourself home after the procedure. However, if you have received oral or IV sedation, you will need to arrange for someone to drive you home, as the effects of the sedative may take several hours to wear off.
Is sedation dentistry covered by insurance?
Some dental insurance plans may cover sedation dentistry, particularly if it is medically necessary or if the procedure is complex. It's essential to check with your insurance provider to determine if sedation dentistry is covered under your plan and what the associated costs might be.
Who is a good candidate for sedation dentistry?
Sedation dentistry is suitable for patients who experience dental anxiety, have a low pain threshold, or require complex dental procedures. It may also be a good option for individuals with a strong gag reflex or those who have difficulty sitting still for extended periods. It's essential to discuss your needs and concerns with your dentist to determine if sedation dentistry is right for you.
Contact Us for the Best Sedation Dentistry Vancouver WA
At Lacamas Dental & Cosmetic Center, we are committed to providing the highest quality dental care while ensuring your comfort and satisfaction. Our experienced team and range of sedation options make us the ideal choice for sedation dentistry in Vancouver, WA.
Don't let dental anxiety prevent you from receiving the dental care you need – contact us today at 360-896-5150 to schedule an appointment and learn more about how our sedation dentistry services can help make your visit a pleasant and stress-free experience.