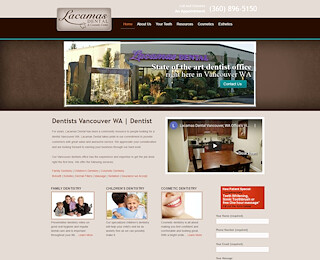 Teeth whitening is among the services offered by the dentists Vancouver WA here in Lacamas Dental. We are located on Mill Plain Blvd and we accept and bill most dental insurance in Washington. Find out more about our services in this website or make an appointment by calling (360) 896-5150.
Don't go through life with teeth that you're unhappy with. If they're crooked or discolored, that can be changed. Not everybody is born with the genetic propensity toward a fabulous mouthful of pearly whites. If you were not exactly blessed with a beautiful smile that you're proud to flash, come in and have a consultation with one of our dentists Vancouver WA. At Lacamas Dental, we have the skills and patience to deal with even the biggest scaredy cats. If you were ever put through an awful dental procedure, you have every right to be afraid of dentists Vancouver WA. Please understand that dentistry has a very long way since the old days of pain and fear. Modern dentists have access to a range of tools and techniques that were not available until relatively recent times.
Don't put off that dental visit until you have an sick aching tooth. It's so much easier to make and keep regular appointments with dentists Vancouver WA. An experienced dentist can evaluate your gums and tongue for potential trouble spots while they are examining your teeth. The dentist will let you know if there are any problem spots that should be corrected. If your smile is less lovely than you like, do something about it. Don't be frightened about visiting our dental clinic. We are well experienced in treating kids and cowards, and we're always as gentle as can be. Find Lacamas Dental clinic at 11818 SE Mill Plain Blvd #106 in beautiful Vancouver. Please call 360.896.5150 to schedule your consultation and/or appointment.